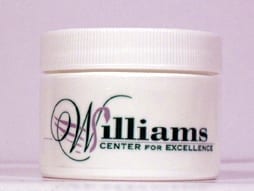 Formulated by Dr. Edwin F. Williams as the first step in skin care, Triple Action Cream is used to even out skin tone and build collagen. It contains Hydroquinone, Tretinoin, and Fluocinolone Acetonide.
Dr. Edwin F. Williams recommends this special formulation to be used for a 2 month period before starting or continuing with the use of Tretinoin (Retin A).
Hydroquinone is a well-known skin lightening ingredient that is effective in resolving pigmentation problems by creating a more uniform skin tone. Hyperpigmentation (brown spots) can occur in men and women of any age and can result from both hormonal and environmental factors, especially sun exposure.
Tretinoin (Retin A) is the only topical cream scientifically proven to reduce the appearance of wrinkles by stimulating collagen growth. Incorporating this into Triple Action Cream not only helps begin collagen building, it also allows you to prepare your skin for the 2nd step in your skin care, which is simply Tretinoin (Retin A).
Fluocinolone Acetonide is a topical steroid. This is the third ingredient in Dr. Williams' Triple Action Cream. It enables the skin to adjust to the use of both Hydroquinone and Retin A. However, due to the nature of this steroid full time use of this product can cause thinning of the skin, which is why Dr. Williams only recommends using it for 2 months at a time. After 2 month patients should begin or continue the use of Retin A Cream.
You can start on these medicated creams by having a consultation with our Nurse Practioner at the Williams Rejuva Center, or during a surgical consultation with any of the Physicians at the Williams Center Plastic Surgery Specialists. Remember, because they are prescription strength, they are not available over the counter in stores. As a patient you will have the convenience of purchasing you creams both in office or over the phone (creams are mailed out the following day).
*Please be aware that if you become pregnant or are breast feeding you must discontinue use of this product.*
How to apply your Triple Action Cream:
*Use at night only*
Wash Face and let dry for 20-30 minutes. If skin is not fully dry it can result in uneven application or absorption.
Apply a Pea sized amount to you finger and dab/dot on forehead, chin, and cheeks.
*Literally a pea sized amount! More is NOT Better! Over usage of this product can lead to skin irritation including dryness and redness.*
Blend in evenly to cover the entire face.
Do not apply directly to the skin under your eyes.
You may apply the product to the crows feet area
Triple Action Cream works well on sun damage on your tops of hand and neck area also.
When starting Triple Action begin by applying 2 times a week. Increase use to every other night and finally every night. Remember – The goal is to use Triple Action as frequently as tolerated by YOUR skin. It may take a while for your skin to tolerate it every night, just be patient.
Using a sun block of SPF 30 or higher daily is important due to the fact that Triple Action Cream use can cause increased sun sensitivity.
To find out if you are a good candidate for this product contact the Williams Rejuva Center at (518) 786-7004 to set up an appointment for a cream consultation.
Frequently Asked Questions about Triple Action Cream